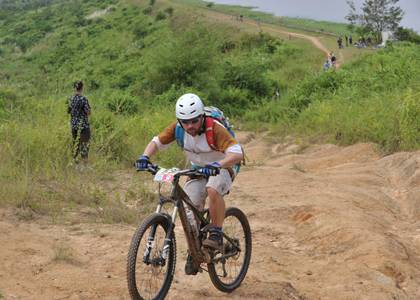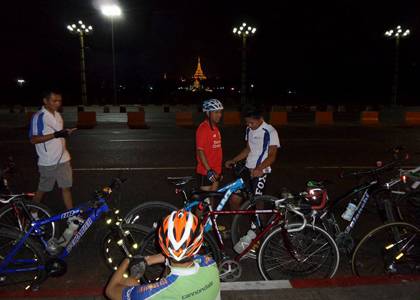 Regular Weekend Biking
The two highlights of the week in Yangon, says Trip Advisor.
Friday Night Ride
A two-hour biking circuit to downtown and back. We cycle from the Bike World bike shop on Kan Rd. at 10pm every Friday night. Just show up! There is no cost for the ride itself and no need to book ahead.
If you need to rent a bike ($15), contact Jeff at 09-513-4190 or [email protected]. Then show up at the Bike World Guest House before 9.30pm to get fitted with a bicycle, helmet, and lights. Please be sure to return rented bikes on the same evening.
The Friday night crowd is usually a friendly mix of 30-50 locals and visitors. Riding as a big group means everyone stays safe on the busy city streets. We stop along the way to regroup and refresh.
While kids and other shaky cyclists might struggle on this ride, for most people this 25-km circuit is a fun way to get exercise and see a different side of Yangon!
Sunday Ride
Mountain biking in the beautiful hills of Hmawbi Township north of Yangon. We put the bikes in a truck, drive an hour, then enjoy cycling off-road until early afternoon, stopping along the route for a quick swim.
The group departs from the Bike World Guest House every Sunday at 6:30am, returning about 3:30pm. The cost of the ride ($15) covers transportation. Renting a bike ($20) and food/drinks are extra.
Everyone is welcome. We can adjust the pace to suit most riders. The routes we follow are exciting no matter how many times you've ridden them. Lovely scenery and fresh air combine for a fantastic day out of the city.
(Please contact Jeff at 09-513-4190 one day ahead if you plan to join the Sunday ride, and to confirm the size of your bike if you need to rent one.)
LIABILITY:  Biking with us is safe but also at your own risk. Medical and transport costs connected to any accidents must be paid by you.